Pool Cleaning Mistakes to Avoid
1. Vacuuming large debris through skimmer without using a leaf trap.
A leaf trap has a bag inside for catching debris and is placed between the end of your pool vacuum hose and the skimmer.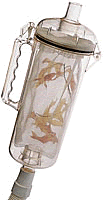 It keeps leaves from clogging your skimmer line when you vacuum.
It's OK to not to use a leaf trap as long as you are vacuuming small things that can't clog the skimmer line, but never go without it when sucking out acorns, sticks, large quantities of leaves, etc. This can lead to a service call to unclog the skimmer line. Give us a call if you would like to buy the leaf trap that our service techs use.
Leaf Trap 20" Long w/3' hose section....fits standard 1.5" pool vac hoses......$89.95


2. Vacuuming algae or large amounts of dirt with multi-port valve set in "Filter" position.
The "Filter" position is the correct multi-port valve setting for vacuuming a relatively clean pool. That is the setting we use on our normal weekly cleaning vacuum jobs. However, when vacuuming a pool that has just had it's mesh safety cover removed and is covered with a layer of fine dust, the multi-port valve setting should be "Waste".

This also applies to a pool covered with algae or lots of dirt. If you use the "Filter" setting in these cases while vacuuming, you will notice the dust (or algae) blowing right back into the pool through the returns in the wall of the pool. When we are called in to help solve pool problems, and we see a bright fluorescent green colored pool water, we know this mistake has been made.
If you have a 2 position valve (slide valve) or a cartridge filter with no valve, you need to have a Jandy 3 way valve plumbed into the line between the pump and the filter if possible in order to bypass the filter and do a vacuum to waste. Call us if you want us to do the plumbing for you. Another way is to hire us to bring a portable pump and do the vacuum job for you.
3. Placing an automatic pool cleaner into a very dirty pool.
See mistake #2 above. The results are the same. Fluorescent green pool water because the fine dustlike particles have blown back into the pool. Automatic cleaners like Kreepy Krawly, Baracuda, or Polaris are great for keeping a clean pool clean, but not for cleaning up a pool that needs to be "vacuumed to waste" the old fashioned way.... with a hose, a vac. head, and a pole.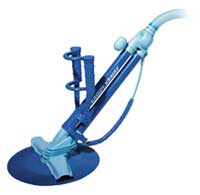 4. Accidentally draining the pool through the backwash line.
Pools are often accidentally drained when the filter valve gasket fails on a multi-port valve after the backwash of a sand filter.
This mistake is easy to avoid if you have a flat backwash hose that rolls out on the ground where you can simply look to see if water is continuing to come out after backwashing, when the filter valve is set back into the "Filter" position. If it is, simply shut off the pump and get the leaky valve fixed.
When your backwash line is hard PVC that disappears under ground, this leak can be difficult to detect. Often times, that hard pipe leads to on opening at the street curb where you can go to see if leaking water is coming out the end of the pipe after backwahing. However, sometimes there is a trickle of water coming out at the curb that lasts for 5 or 10 min. and then stops. Is that trickle going to stop or not?
We like to plumb a PVC union into a horizontal section of the PVC backwash line near the valve, so that the line can be separated to easily check for leaks. If there is no trickle of water at this union, your filter valve is not leaking. Watch the following video.
Give us a call if you would like to have a union fitting plumbed into your line so you can know for sure!
5. Neglecting to brush the pool.
I know we sound like your dentist....."Don't forget to brush!", but this is extremely important. In fact, if you had to choose between a vacuum head and a brush to keep your pool clean, choose the brush! Better yet, use both.
Brush the pool once each week during the pool season. Brush the sides and the bottom of your pool, pushing everything toward the main drain. The vacuum head can't dig in deep to discourage algae like the brush can. Use a nylon brush for routine brushing, not a stainless steel brush which is too abrasive for weekly cleanings. Give us a call at 918-622-4400 to buy the brush all of our service techs use.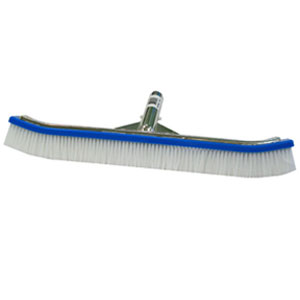 6. Buying a leaf skimmer instead of a leaf rake.
Look in the back of a pool service tech's work truck and you won't find a leaf skimmer. Instead you will find a leaf rake. Why? A leaf rake will do everything that a leaf skimmer will do and a lot more.
Try dipping a couple of leaves off the bottom of your pool with a leaf skimmer on your pole. Very difficult!
Our advice...get a leaf rake instead of a leaf skimmer. Hover your mouse over the photos below to identify the leaf rake. Don't buy the cheap one! You get the quality you pay for. Give us a call at 918-622-4400 to buy the leaf rake all of our service techs use. It is the most durable one we know of!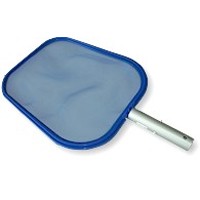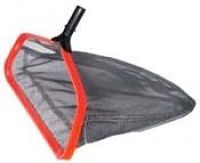 Leaf Rake 19" the one Metro Pool uses (black net with red rim) ...........$54.95


7. Failing to dump a full skimmer basket.
Skimmer baskets can become so packed with leaves that they split down the sides. This extreme suction puts a lot of strain on the pump as it tries to draw water through the packed skimmer. When the skimmer basket splits, debris gets sucked directly into the skimmer line which can lead to a clogged skimmer line or a clogged pump basket (strainer basket).
When the skimmer basket is jammed full of leaves, turn off the pump first, then immediately remove the basket from the skimmer and dump it. Some leaves may remain in the skimmer. Make sure they don't get underneath the skimmer basket when you replace it.
8. Allowing your skimmer basket to "float up".
When skimmer baskets are brand new, they come with some sort of weight that sinks the empty basket under water into its proper position in the skimmer. When that weight is lost, many people continue to use the basket. Sometimes the basket floats up when the pump is turned off and continues to float when the pump is turned back on, which allows debris to be sucked underneath (rather than through) the basket and then directly down the skimmer line which often causes clogged lines.
Put a large rock into the basket to weight it down if you have lost the weight. MAKE SURE the rock is LARGER than the hole in the bottom of the skimmer so if the basket cracks the rock can't be sucked down the PVC line! Don't use any metal object that can rust as a weight.




9. Vacuuming pool with filter valve in "backwash" position.
When a pool is vacuumed with the sand filter valve in the "filter" position, the dirt and debris that passes through the pump ends up inside the filter on top of the bed of sand which is where you want it.
When a pool is vacuumed with the valve in the "backwash" position, the dirt ends up underneath the bed of sand. The pool will clean up nicely like this......until the valve is turned back to the normal "filter" position. That's when all of the dirt and debris (that was just vacuumed out of the pool) blows back into the pool through the returns. UGLY!





10. Ignoring the leaves and dirt in an open winter pool.
During the winter, a pool that is left uncovered needs to have leaves removed on a regular basis. Weekly while the leaves are falling heavily, then at least once a month afterwards. The pool will also need to be vacuumed to waste a couple of times to remove the accumulating dust.
When the leaves and dirt are ignored, staining can be the result, or at least a difficult spring clean-up. If you need help with these chores, give us a call!




11. Failing to use a wire brush on black algae.
Black algae is the most difficult algae to get rid of, but it is not that big of a deal if you act quickly. We are going to assume that your water is balanced (see point #1 under Pool Maintenance Mistakes ). Yes, your water can be balanced and still get algae unfortunately. Black algae is round and black and won't brush off with your nylon pool brush no matter how hard you try. We have learned to hate the stuff!
Get a stainless steel pool brush....(no,not your rusty grill brush or paint removing brush from your tool closet!)....and thoroughly brush the black algae.This only applies to gunite (cement) pools because a s.s. brush will harm all other pools. Notice, the algae still won't brush off but you have scratched into the protective outer layer of the black algae so the chemicals can kill it.
Now, treat your pool with an algaecide made specifically for black algae like Robarb Black Robacide which comes in a 32 oz. bottle. Follow the dosage printed on the bottle. If you catch it in it's early growth, one treatment will solve your problem. In some cases it will take multiple treatments. In extreme cases, pools are sometimes drained and treated with acid and power washing to get rid of black algae.