Swimming Pool Construction
Before you make any decisions about your Tulsa area swimming pool construction project, you might want to see for yourself how a pool is built from start to finish.
Following is a fun video to watch of a pool being built in just 5 minutes! These guys get after it!
The pool in the video is a gunite white plaster pool with an in floor cleaning system and an elevated spa.

 Swimming Pool Construction Decisions
There are many decisions to make before beginning a swimming pool construction project like the one above. There are too many questions to list here regarding choices of pumps, filters, heaters, pool covers, diving boards, slides, pool lights, valves, and other equipment.

Pool Construction Financing
How will you pay for the new pool? Pool construction financing is a very important consideration. Most people don't have that kind of cash laying around and are interested in financing options.  Click here for more information about getting a loan for your future pool.
Deck Options
There are many deck and coping options to consider, too. Should you use stamped concrete, Kool Deck, or some other option? How will the pool cover attach to the deck, and do you even need a pool cover?

Inside Information Available To You
The answers to some of the above questions are a matter of aesthetics and personal preferences, but some of the  questions must be answered correctly or you are going to waste thousands of dollars on your new  pool.

I have very valuable answers to these important questions simply because I have worked with thousands of pools over the last 20+ years in the pool service industry. 

That is why I wrote the ebook in the image below.  You owe it to yourself to read this ebook before you go any farther in your pool building project because it will save you hundreds or even thousands of dollars $$ !  
Click the image of my ebook below to find out more!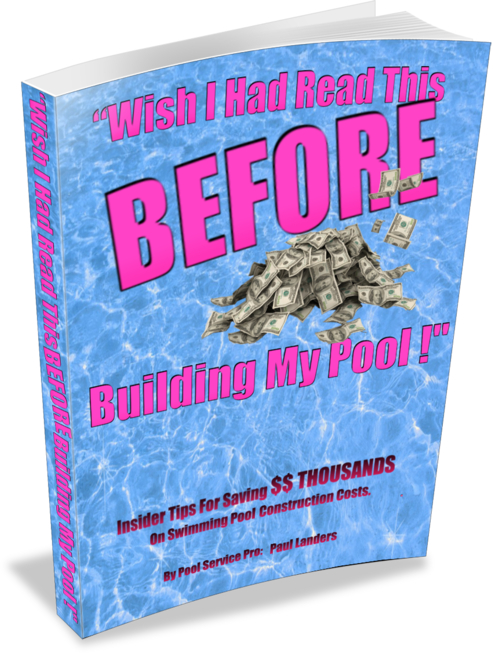 After reading my ebook you will be ready to make the most important decision of all concerning your future pool.
The choice of the right pool builder.  If you get the wrong builder it can be a costly nightmare for you!
Connect With A Reputable Pool Builder 
Metro Pool Service will connect you with a reputable Tulsa area swimming pool construction expert that can build a custom "high end" pool or an easier on the budget pool to meet your needs. Just give us a call at 918-622-4400, or fill out the form below and tell us what kind of pool you have in mind and we will help you 'get the ball rolling'.